DRAF | Derrick Rutledge About Face is the brand of professional, celebrity make-up artist Derrick Rutledge. Derrick Rutledge has painted the faces of some of world's most famous women including former first lady of the United States Michelle Obama, Beyonce, Chaka Kahn and is the current celebrity make-up artist to one of the most influential women in the world by the name of media mogul OPRAH Winfrey.
Derrick Rutledge's famous make-up techniques and approaches have graced the covers of countless magazines such as BRITISH VOGUE, TIME MAGAZINE, IN-Style Magazine and Countless O Magazine Covers to name a few - And most recently his make up genius garnished international attention and praise for his idealization and transformation of Oprah Winfrey into the character of Ms. Which in the spectacular Walt Disney & Ava Duvernay collaborative film " A WRINKLE IN TIME." It's no wonder most in the make up industry and his fans refer to him as "THE MAKE UP MAESTRO."
From the start - Derrick Rutledge's make-up techniques have not only provided a blue print for celebrities, But for professional make-up artists, brands and the everyday woman alike. Derrick Rutledge Master Classes known as PYP| Perfecting Your Presence are offered throughout the year and around the country. These intensive hands-on classes allow aspiring and professional make up artists as well as the everyday woman to learn some of Derrick Rutledge's insider celebrity make-up tips and techniques to advance their professional clientele and for some to just look like the BEST version of themselves.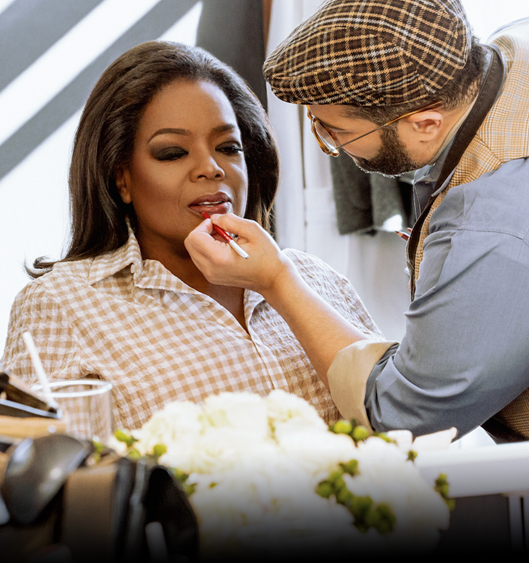 Derrick Rutledge The Make-Up Maestro has make-up artist to OPRAH WINFREY.....
Stay up to date on what's trending with the DRAF RUNWAY TEAM. Individuals trained by Derrick Rutledge
PYP| DERRICK RUTLEDGE MASTER CLASSES
PYP which stands for PERFECTING YOUR PRESENCE is a series of Makeup MASTER CLASSES designed and taught by Derrick Rutledge
PYP MASTER CLASS CURRENT CLASS SCHEDULE